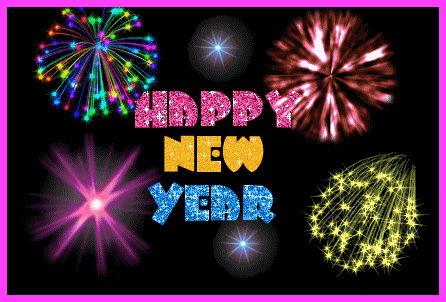 Well, another year has gone by and it's time for our Chaffy Year in Review!! We did some movin' and shakin' this year here in the Chaffy house.
In March, we moved from our old house out in the county to a new house in town. We love being so close to everything, having a fenced in yard for Taco, central heat and air and living on a culdesac for the boys to skateboard and play basketball on.
In May, Michael graduated high school and made the decision to get a job rather than join the Marines or head off to college. He's taking some time to learn some life skills like budgeting, bills and doing his own laundry and we are happy he's here with us.
Also in May, Anthony graduated middle school and officially became a high school freshman. I am proud to say that he is doing very well so far.
At the end of May, Steve and I quit smoking. We are so proud of this accomplishment!! It has been over 7 months now and we vow to never go back to being smokers.
In June, Steve and I celebrated our 24th wedding anniversary. He is truly my best friend and I am such a happy woman because God saw fit to give me this blessing of a man as my husband.
Steve has been enjoying his job at Sam's. There have been some challenges, as with any job, but he is much happier with working at Sam's and being out of the mad house of Walmart.
I have started getting more activity into my life. At first it was just as a way to ward off the "quitter's weight gain" but as I added more and more activity, I saw how much better I felt and decided to add activity to my regular routine on my journey to a healthier me.
Kristi and James have celebrated another year together. They have weathered some difficult times this year but have come through stronger. We are proud of them.
My friends started a new website that, at first, I had mixed feelings about but I worked it out with my place of work to be able to be a part of both sites so I am very happy about my online life both career-wise and recreational-wise.
Joe has jumped into a new career in managing a service station. Despite his initial nervousness, this being his first management job, he is running that station like an old pro, impressing his supervisors and even the owners of the company with his initiative and creativity.
I'm so happy to say that Mom has fully bounced back from her health issues of a few years ago and continues to be active in her hospital volunteering, her craft club, her water aerobics at the YMCA and her Red Hat Society group, not to mention being a Nana who is always involved in our lives. We are so lucky to have her.
And that's the Chaffy 2008 Year in Review!! We are looking forward to a healthy, happy 2009 and wishing you all the same!!
See ya next time!